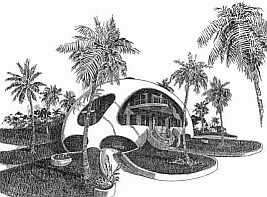 THE INCESSANT WAR AGAINST RUST
Coastal living provides a variety of challenges. One of the worst is the incessant war against rust.
The salt air disintegrates items right before your eyes. A grill lasts a year and bicycles might dissolve in the middle of a ride around the neighborhood. We have found few worthy weapons in our battle against the pervasive rust. Before we could have the concrete floors poured, rust was already coating the floor pans.
Fortunately, Hy-Tech Solutions provided us with the perfect product to paint on the first level of the dome. Not only did it extinguish rusts rampage, it silenced the reverberating echo so common in dome structures. We are extremely impressed with how smoothly Metal-Shield paint is applied and how effectively it works.

Finally, a product to place in the arsenal has been discovered! Hy-Tech Solutions, www.ceramicadditive.com, has created Metal-Shield, www.metalshield.com, a space age solution to the age-old problem of rust. This product has been tested and has proved that it will prevent rust on an area subject to the most severe weather conditions in excess of five years when applied with a cured film thickness of 5 mils or more. By combining the Insulating Ceramic Microspheres (see previous progress report) with an industry standard setting anti-corrosion compound, a product comparable to PVC, Teflon, Nylon, and Plexiglass is available for easy application in paint form.

Metal-Shield is intended for use as a field applied maintenance coating and does not require complete removal of rust or previously applied lead based coatings on bridges and other steel surfaces. Metal-Shield paint has been put to extremes tests by the:

Department of the Army, Tank-Automotive Command
Approved for Type I Corrosion Protection
Department of Transportation in Arkansas, Kansas, Missouri, and Nebraska -
Approved for use as a rust preventative on bridges and as a lead paint
encapsulating coating.
Ford Motor Company
Approved for application in automotive dealerships as supplemental corrosion
protection.
Georgia Power and Light
Approved for use on transmission towers.
US Air Force
Used as a rust resistant coating on mothballed airplanes to protect and preserve
ARTCO, Marine Barge Line Division of ADM Corp
Used on barges to coat between the double hulls as a rust resistant and water
displacement coating.

Metal-Shield is a single component resin that actually displaces moisture and is highly corrosion resistant, even in thousands of hours of salt fog. The corrosion protection is a result of the bonding of the calcium sulfonate to the metal surface. This product does not lift, stain, soften or degrade existing coatings and therefore, can be used over the existing coating systems on bridges and other metal surfaces. Metal-Shield remains pliable and flexible, without cracking or chipping.


---

Posted: 11/20/02
Mark and Valerie Sigler
Energy Efficient
Hurricane Proof
Monolithic Dome Home


We Supply the Solutions
You Just Need to Apply Them